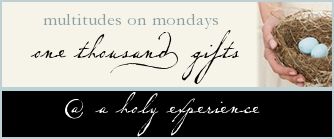 And the gratitude journey continues:
21. The blessing of best friends - despite the distance that two very large states has put between them. These boys' hearts are knit together in a way that words cannot describe and is precious to behold!
22. The reminder in Sunday's sermon that even the heroes of faith described in Hebrews 11 had feet made of clay. That the writers of the Bible were very intentional about describing not only their successes but their failures - and the reminder that they are not the true heroes of Scripture. The only one who could claim that he was always faithful, "to do the things that were pleasing to Him." (John 8:29) is the true hero to look to in all things, at all times.
23. Christmas 2011 came early for me in the form of a new set of excellent quality stainless steel pots and pans that I did not pay a dime for after I returned my original set.
24. For companies that have lifetime guaranties and honor them.
25. For friends 15 years ago that bought me the first set of pots and pans as wedding gifts that lasted for a decade and a half.
26. For little boys who go and go and go...until their go is all gone. ;)
27. For boys who come downstairs in the morning like this...
(math manipulatives for guns and all!)
28. For memorizing the book of Philippians in 2011 with a faithful friend.
29. For my very own copy of Ann's book waiting to be read and discussed with friends. And the anticipation of God doing great things in all our hearts.
30. For the pot of hot coffee that awaits to wake and warm me at 5:00 am each morning along with my copy of the Word that waits to warm my soul.